PARODIA ANIMADA DE ALICE IN CHAINS
Mira esta parodia animada de Alice In Chains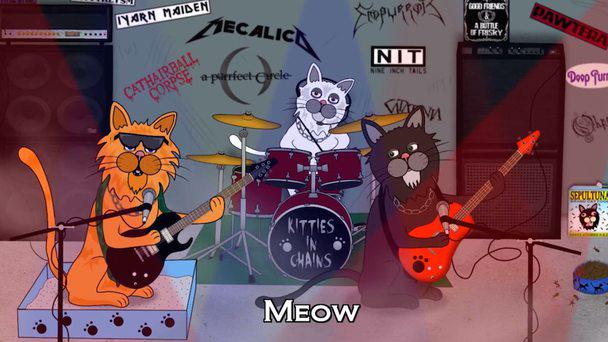 Si tienes gatos como mascotas y te gusta Alice In Chains, esta parodia del tema "Man In The Box" llamada "Cat In The Box", te hará mucha gracia. Se trata de una banda animada que tiene por nombre Kitties in Chains y fue creada por Joey Siler y Chris Senter, y aunque quizás ya te lo habías imaginado, "Cat In The Box"habla acerca de los hábitos de los tiernos felinos cuando "van al baño".
Joey Siler también es el creador de Cooking Hostile with Phil Anselmo (Cocinando Hostil con Phil Anselmo) un clip animado en el que se muestra al líder de Pantera, preparando "hostilmente" un plato gastronómico.
"Man In The Box" de Alice In Chains, la canción original, fue lanzada en 1991 como parte de Facelift, álbum debut de la banda que logró colocarse en el puesto 18de la cartelera Billboard de ese año.
COMENTARIOS
+NOTICIAS
Doctor No presenta el videoclip del tema clásico "Missing Words"
La banda larense ingresa a un importante compilado de ska del sello británico Specialized Project
LEER NOTICIA
Zapato 3 Regresa a España con su Asfalto World Tour
La banda venezolana Zapato 3 estará en Barcelona y Madrid con su Asfalto World Tour
LEER NOTICIA
El Jack Johnson Sessions regresa a Cusica Live!
La invitación es para el sábado 14 de septiembre a partir de las 7:00pm *** ENTRADA LIBRE ***
LEER NOTICIA